Women in Tech.Flanders
— The Thrive Project
WOMEN IN TECH — The Why
There just aren't enough women in the tech world. Period.
Studies have shown that women drop out of the technology sector at twice the rate of men, with workplace conditions being the number one factor. That's why we're working on supporting female entrepreneurs on their road to innovative entrepreneurship, helping to keep them in the tech sector.
We stand by women taking on the entrepreneurial world of tech by breaking down barriers obstructing the founding, growing and scaling of their companies. Introducing them to the inspiring female role models they need to thrive and providing coaching to overcome specific challenges.
WOMEN IN TECH — The What
Together with VLAIO & Netwerk Ondernemen we are launching two brand new programmes under the umbrella "Women In Tech".
Inspirational webinars: Accessible, motivational and free webinars that feature female entrepreneurs. Founders share the hard-won lessons and valuable expertise they gained on their entrepreneurial journey, imparting their wisdom about how to confront the challenges they've encountered.

Coaching programme (The Thrive Project): We provide individual and group coaching featuring mentors and experts who help you grow your tech company with a focus on leadership. Real role models who will guide you on your way to building a successful career and company while staying true to your own boundaries and personality.
WOMEN IN TECH — The Webinars
Upcoming FREE webinars

23.03.2020 — Anneleen Vander Elstraeten (CEO of Four & Five — Legal Solutions & Legal Tech).
WOMEN IN TECH — The Thrive Coaching Project. (COMING SOON)
EXPLORE your power, DISCOVER your leadership impact & ACTIVATE your network. That's the Thrive Project.

Welcome to The Thrive Project, a Tribal Initiative. Today is the first step in your journey to explore the amazing things that make you, you. In this new adventure you'll meet other incredible women, who will further shape and challenge you. You will have the opportunity to connect authentically, in an open environment, where ideas are embraced and explored. You'll be building a new network, one that promises to see you thrive. In the famous words of Diane Mariechild, "A woman is the full circle. Within her is the power to create, nurture and transform". You have been selected to walk this path of transformational growth because you already are exceptional. It's time to plant thoughts as seeds and admire the roots that take hold.


More practical details

Duration: 6 months filled with 17 contact moments (February - June)

8 hands-on webinars
2 individuel coaching sessions
6 group sessions)

Capacity: max. 10 participants per year will be selected

Cost: 450 EUR (excl. VAT)

Launchdate: Launching on the 7th of January 2021
Programme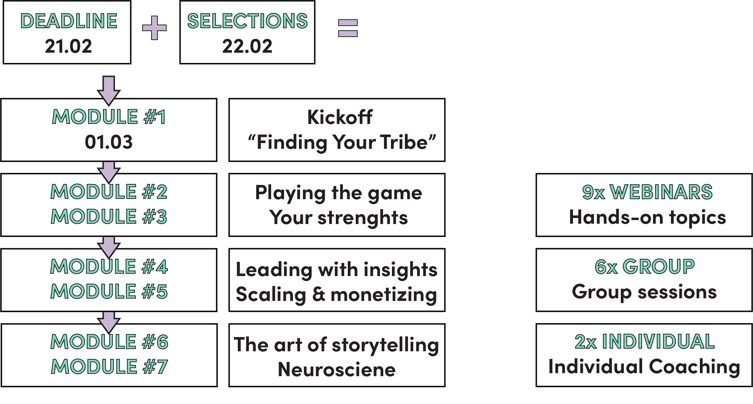 Ready to be coached to startup success?
Fill in the form below. We'll keep you posted as soon as we set the form goes live!
Feel free to share with fellow female founders.
Keep me informed
Follow us on social: