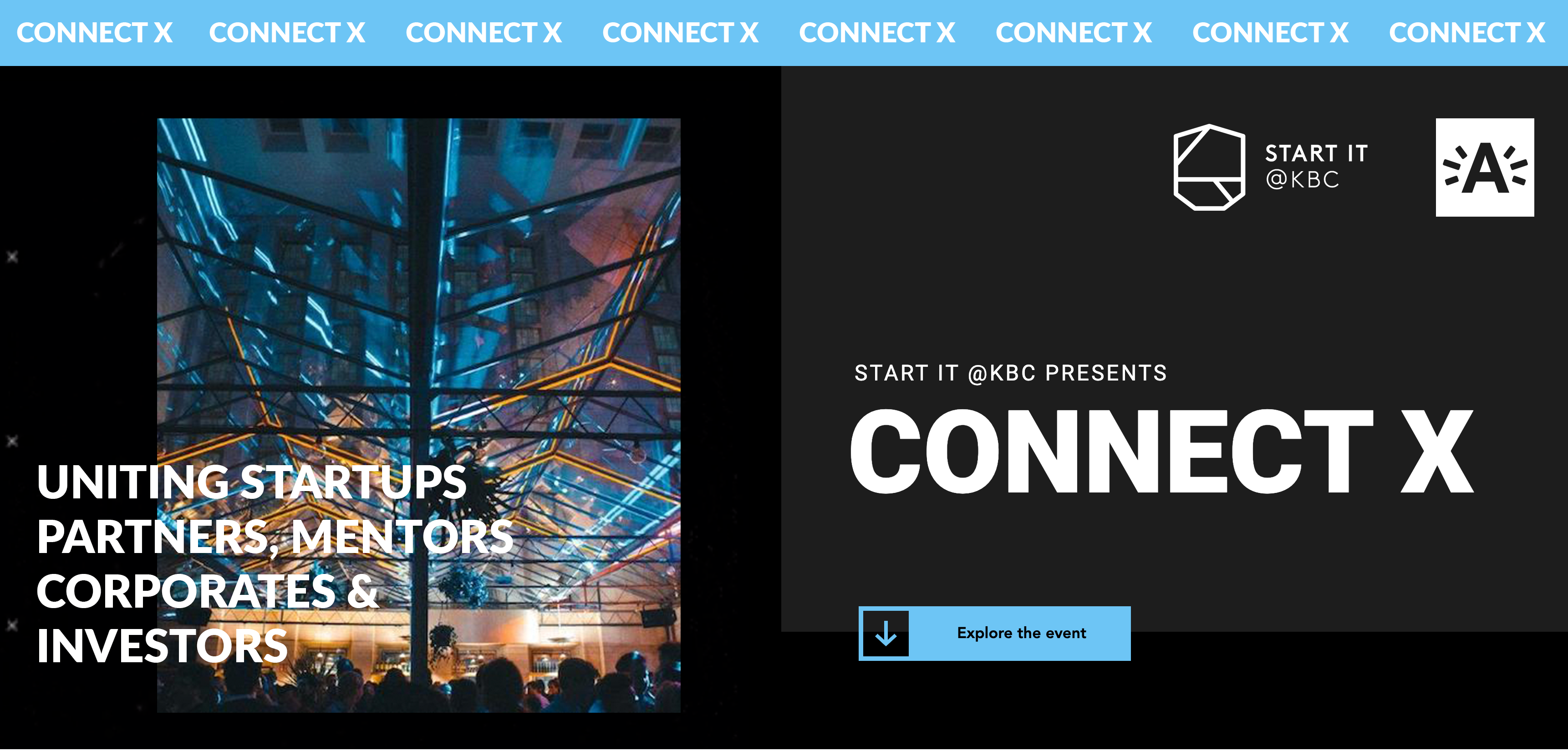 CONNECT X

REUNITING OUR BELGIAN COMMUNITY IN ANTWERP
Connect X promised to put matchmaking on steroids, and it definitely delivered, thanks to you! We did some great networking, seized opportunities, planted seeds with investors and made new connections. Did you miss one of the events, or just want to bask in the good vibes again? Read the full wrap-up article and check out the pictures!

THE VENUE — Plein Publiek Antwerp

Expect the coolest gathering we've ever organized at the brand new

Plein Publiek

in Antwerp.
360° projections
Amazing scenery
Great food
Awesome talks & people
Focus on circularity from the bottom up

THE CONCEPT — Matchmaking On Steroids
Matchmaking is the core of this event, and yes you can take this very literally. We've got you covered!
Investor Matchmaking
Mentor Matchmaking
Partner Matchmaking
Corporate Matchmaking
Networking Parties
On top of that we're keeping you inspired throughout the entire two days with awesome talk shows, new formats & great speakers.
Oh, the best of it all: COMPLETELY FREE (*) Except the food & drinks

THE SCHEDULE -MAY 4
TIME
ACTIVITY
DESCRIPTION
9:00 - 11:00
Start it Padel

Nothing gets your blood flowing like a friendly game of padel! Beginners & pros are welcome to show us their
competitive spirit during a 1-hr initiation & 1-hr game.
9:30 - 13:00
CONNECT X: Everybody Circular
Roundtable Circularity
We'll be talking all things circular at this fascinating talk with our partners VITO & Circulair Vlaanderen.
9:00 - 18:00
Coworking
Get some work done in Plein Publiek's fabulous co-working spaces. Take a break to play some padel, chat with other entrepreneurs and enjoy some fine eats!
13:00 - 14:00
Startup Pitches
14:00 - 15:00
Startup Pitches
15:00 - 16:00
Startup Pitches
16:00 - 18:00
Start it Connect
Ready, steady, network! This is the moment to reconnect with each other and meet the new startups.
18:00 - 20:00
Dinner
Enjoy tasty eats by Sumac and then sit back and listen to Lode Late Night on the journey from startup to scale-up!
20:00 - 23:00
Lode Late Night
Lode Late Night delves into the journeys of different startups, gathers their insights and has a good laugh!
THE SCHEDULE — MAY 5

| | | |
| --- | --- | --- |
| TIME | ACTIVITY | DESCRIPTION |
| 9:00 - 11:00 | Start it Padel | All warmed up and ready to show us your padel prowess? Beginners and pros are welcome to join us for a friendly whooping. |
| 9:00 - 18:00 | Coworking | Get some work done in Plein Publiek's fabulous co-working spaces. Take a break to play some padel, chat with other entrepreneurs and enjoy some fine eats! |
| 10:00 - 12:00 | Connect Ventures | TBA |
| 13:00 - 16:00 | Sailing with Investors | Did you ever dream of being stuck on a boat with investors? Do you want to have a good talk with them about your investment challenges? Set sail with the investors, and tell them what you need. |
| 13:00 - 14:00 | Circle of Innovation | TBA |
| 14:00 - 15:00 | Circle of Innovation | TBA |
| 15:00 - 16:00 | Circle of Innovation | TBA |
| 18:00 - 20:00 | Dinner | Feed your festive mood with tasty treats from La Taqueria before our graduation celebration to remember! |
| 20:00 - 01:00 | Graduation Night | We will speech, we will celebrate, and oh yes, there will be dancing! |